From writer to author
'Everyone has a book inside them'
But how did it get there? And more importantly, how do you get it out?
At Genius Media, our job is to get your unique ideas and knowledge into print; whether that helps you to share your creativity and experiences or grow a successful service business.
Writing is something that we can easily take for granted; we write shopping lists and notes every day. But how many people can say that they have written a book? Almost everyone writes, but how many people can say that they are an author?
The answer is that, whilst many people say that they have always wanted to write a book, very few do.
We can help you to get your thoughts down on paper and turn them into something tangible that you can proudly share with friends, colleagues and clients.
How your book got into you is through a lifetime of unique experiences. How to get it out? With our help.
On this page, you can learn about how publishing has evolved into an industry that can support your personal and business growth, and you can find out about ebooks, marketing and other things to consider when making a start on your book.
The Evolution of Publishing
The publishing industry has changed dramatically in the past few years, thanks to the arrival of a technology called 'Print On Demand'.
We'll use the analogy of printing office stationery to explain how this works.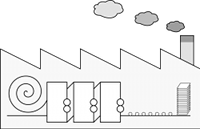 In the old days, huge printing companies used to print letterheads, invoices, compliment slips, memo pads and so on, in the tens of thousands, for company staff to then fill in by hand.
When photocopiers came along, it became easy for office staff to reproduce stationery, and when desktop computers and laser printers arrived, office staff could produce their own letters and invoices and print them locally at a very high quality.
The cost of printing a single page of paper at a large commercial printer is lower than printing a page on an office or home printer. However, you need to print many thousands of pages at a commercial printer, and pay for them up front, and store them somewhere.
Today, you can produce business documents that easily rival the quality of commercially printed stationery, and all you need to store is plain paper.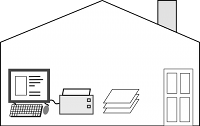 In the old days, when companies had to change their telephone numbers, or they changed their logos or colours, they had to throw away their stock of stationery. Today, they just change a computer file.
The flexibility and ease of use of printing your own stationery, on demand, greatly outweighs the lower production cost of traditional high volume printing, and this is exactly what has happened in the publishing world.
Print on Demand
Our preferred method of printing uses a technology called Print on Demand. We submit the electronic book files to the printer where they are held, ready for when a copy of the book is ordered. The printer then prints and distributes as many copies of the book as are ordered, anything upwards of a single copy.
When a customer orders a book, either in a book shop or online, the order is sent automatically to the printer and the book is then printed and sent direct to the retailer. We receive payment for the book, and at the end of the month, we send the author a report and a royalty payment.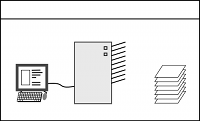 With Print on Demand, there is no cost of holding stock, order fulfilment is fast and efficient and the author can easily update the book whenever they want at very little cost.
Self Publishing
Traditional publishers still have a highly risk averse approach to signing up new authors, as if they are still having to stockpile thousands of books. The changes in printing technologies benefit the big publishers too, but of course they have used that to their advantage, to protect their interests and reduce their production costs rather than to offer more authors the opportunity to see their work in print.
Self-publishing has crept into the bottom end of the market for people who either can't get a publishing contract or don't want one. However, the traditional publishers still hold many of the marketing cards. They still own the shelf space in high street book shops, and they still have the marketing budget to put adverts in the national press, on TV and on public transport.
Self Publishing simply means that the author acts as the publisher, usually through an intermediary such as Lulu or CreateSpace. It's fine for people who want to publish one or two books, but managing the distribution is a headache, and of course the intermediary takes their margin too. At first glance, the profits for the author seem good, but when you look at the real costs involved and the marketing requirement, they actually tie up a lot of the author's time, when the author really should be doing something more useful such as giving interviews, building their business or working on their next book.
Ebooks
There are two different markets for ebooks.
The first is the electronic distribution of printed books, ideal for people who prefer to read using a computer or custom ebook reading device such as Amazon's Kindle. Tablet computers such as Apple's iPad are also much easier to use than traditional laptop computers.
Each ebook reader uses a different book format, so we have to convert the files in order to be able to sell ebooks via Amazon or Apple iBooks.
We then distribute the books through Ingram for iBooks and direct through Amazon for Kindle.
Marketing
The Internet offers a viable and very cost effective marketing channel for smaller publishers and self-publishing authors, so we've teamed up with Internet marketing experts ABSEM to offer authors a simple route to book marketing. We can offer a simple web site setup and, most importantly, the search engine management that gives your book maximum online visibility.
Many authors dream of seeing their book for sale in a High Street shop, but unfortunately this is neither realistic nor profitable. Firstly, the High Street shops stock what the major publishers tell them to. In the UK, Ottakars and Borders used to support independent publishers and self-publishers, but Ottakars were acquired by Watestones a few years ago, and Borders went into receivership. Consolidation in the High Street book market, driven by competition from online retailers, has left the market still driven by the major publishers. Independent authors therefore should focus on non-mainstream marketing channels. Amazon's mission is to put every local retailer out of business and control the entire supply chain. They distribute, sell, stock and publish books, and they have even signed authors directly. They even, to an extent, control readers through the detailed tracking build into Kindle reading devices.
Even if your book is stocked in the High Street, you'll get relatively few sales from casual browsers. Most books, particularly business books, are sold because a customer goes out to buy that specific book. By the time the customer walks into the shop to buy your book, your marketing has already worked
Probably the best approach is to offer a local book shop a signing event where you spend time at the book shop, talking to customers and selling signed copies. You might also give a talk or lecture, depending on the content of your book.
The event can be publicised in the local press and on local radio and TV stations, which creates publicity that brings people into the shop to buy your book